Grand Chase PVP Match Relay Dungeon
Latest: Grand Chase PVP Match Relay Dungeon
Grand Chase PVP Match Relay Dungeon
Project Rank 2,035 out of 60,474 in WarCraft 3
About
Map Info
Based on the online game Grand Chase created by KOG, this map features all characters of Grand Chase from Elesis to Rufus (Lin is excluded) and all the dungeons from Bermesiah to Xenia. It ...
Map Info
Based on the online game Grand Chase created by KOG, this map features all characters of Grand Chase from Elesis to Rufus (Lin is excluded) and all the dungeons from Bermesiah to Xenia. It also includes the heroic dungeons; Shrine of Ruins and Furnace of Hell (Phantasmic Sector is Excluded). The players' objectives in this game is to join either Serdin or Kanaavan team and choose from 14 different characters; Elesis, Lire, Arme, Lass, Ryan, Ronan, Amy, Jin, Sieghart, Mari, Dio, Zero, Ley, and Rufus. Players must earn titles from different dungeons and whoever will get the higher kill points after the final dungeon will win the game.
Features
After 5 sec of the game, a dialogue box will appear where it lets you choose if you wanna have PVP Matches or not. Be sure to press no if you're going solo or with no player enemies because this map doesn't have AI. And after 3 sec, the dungeon will start with a 3 minute timer with the name "The Boss will come in:". After the timer expires, the first boss will appear. After the boss is defeated, the timer will repeat and the game will proceed to the next dungeon. The game contains 26 dungeons, so it would probably take long for players to finish it. But there's another version of this map (Relay Dungeon Mode) which will only have a 30 sec timer for each dungeon. The monsters are easy to defeat (except for Heroic Dungeon monsters) because it concentrates more on the Hero Arena side of the game.
Some else stuff about map
Item Combination System
Heroic Dungeons
PVP Matches
Skill Trees
Lots and lots of custom spells
Sounds
Screenshots and Videos


Gaikoz doing his danger move

Rufus, Ronan, Jin, and Dio as they take on Nemophila and her vile spectres at the Shrine of Ruins' Boss Stage. You can see Rufus activating his Make it Rain skill.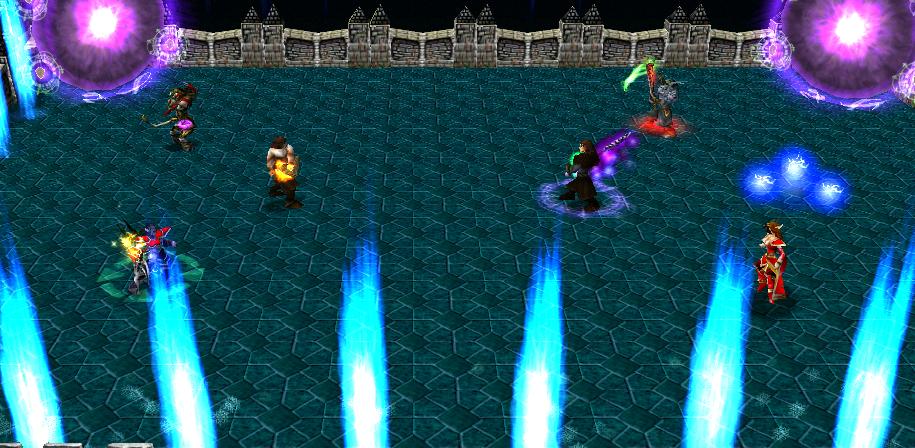 Heroes of Serdin and Kanaavan readying themselves for their next battle.

Video Description
Just because the trailer is pretty good doesn't mean the map is great. But please, give it a try. Download Grand Chase PVP Match at hiveworkshop.com and at epicwar.com. I decided to make a trailer for people to notice my map. This trailer is a combination of other trailers from Grand Chase and some of the videos from the game itself. I do not own any of the Grand Chase trailers in this video and all of these belongs to their respective owners.
Special Thanks:
Models: People from hiveworkshop.com; WILL THE ALMIGHTY, Champara Bros, JetFangInferno (Mostly for the special effects), Bon_Jovi, Kuhneghetz, Mc !, crl, shamanyouranus, CeDiL, sPy, Pyritie, darkdoom, D.O.G., DonDustin, Daelin, PrMosquito, General Frank, Misha, Suselishe, EnetheruAnuon, s4nji, Weep, CoffinPuppet, Tarrasque, Ampharos_222, Callahan, Usedwell, DeepSeaKraken, Tenebrae, Dargoth, Vestras, HappyTauren, Dionesiist, -SkatinG_CoW-, Nasrudin, Darky29, donut3.5, Sven, and Callahan.
Sounds: Some of the sound files were extracted from different sound.kom files with a kom extractor made by Sir_Taec from elitepvpers. Other sound files were from youtube videos of the character's voice pack and are extracted through the flvto website. Others were taken from grandchase.info. All sounds were fixed and their filesize were lowered through the use of Audacity. All sounds belong to the Grand Chase.
Tutorials/Systems:Thank you to all of the people from thehelper.net and hiveworkshop.com for their tutorials and all the help I've got from them.
Author's Notes
Please test my map and rate and comment below. Please let me know if there are bugs in my map by replying on this thread.
Log in and reach level 3 to submit a review for this map.
Related
Meta
Categories:

Author:

Filename:

Latest Version:

Type:

WarCraft 3 Map

Size:

8.4 MB

Tags:
Players:

10

Teams:

4

Dimensions:

96x96

Playable Area:

84x84
Favorites:

0

Downloads (Total):

142

Downloads (Daily):

n/a

Submitted By:

Discovered On:

April 19, 2012
Share Map
JavaScript Widget:

Direct Link:
Download Map

Install automatically with NIBBLER
Rating
There are not yet enough votes to show a realistic score.
Your Rating
Achievements
No badges or achievements yet.
---
Support Nibbits by linking to us: